Crawling out from the corpse of the Sith Empire, the
Omar Syndicate
rose up under the shadow of the
Zakuul
.
Elite members of the Sith hierarchy, who had direct ties to the Imperial Intelligence program known as
Operational Management and Advanced Research
, found that they exhausted themselves defending the ashes of their fallen empire. They then decided to instead pool their resources from the defunct intelligence program to benefit from the turmoil engulfing the galaxy. Led by the their risen leader,
Syrine
, the organization began to thread the strings of the many puppets they intended to control.
Syrine became the organizations focus of power, serving as a demigod for the group that would lead to a plethora of scientific perversions carried out in her name. Cultists dedicated to her began to crop up, prisoners found themselves sacrificed to dark machines intended to preserve the Leader's supremacy and perceived divinity. Even worse, dark pacts were being made behind closed doors with forgotten horrors in the effort of ensuring that the Omar would linger long past any of their rivals.
At that point, nothing seemed to be out of reach for the Omar, as they burrowed their fingers deep into activities considered to be both legal and illicit. Arms smuggling, slave trading, mercenary contracting, bounty hunting, assassination, political bribery, and a multitude of other operations became their bread and butter. Loyalty became defined as profit. Honor became defined as convenience. Religion became a mix of what Syrine demanded and what was left of the Sith teachings that was allowed to be preserved.
Absorbing the assets of the defunct
Wrath of Korriban
movement, the Omar found themselves in possession of key sites throughout the galaxy. Each of these locations was slowly converted into complexes to house the atrocities the Omar had planned to unleash upon the galaxy, with their base of operations and manufacturing center located on the planet Omar.
Using a unique network of proxies, the Omar began to fund operations to have both private and public faces.
VoriCorp
became their prized corporate front, serving as a means to barter with both sides of any conflict while remaining neutral and keeping in line with the organizations own interests.
Ultimately, the Omar served themselves before anyone else. While they may have been a nightmare to some, they were a revelation to others. Beyond that, they have embedded themselves into the throat of the galaxy and are showing no signs of leaving any time soon.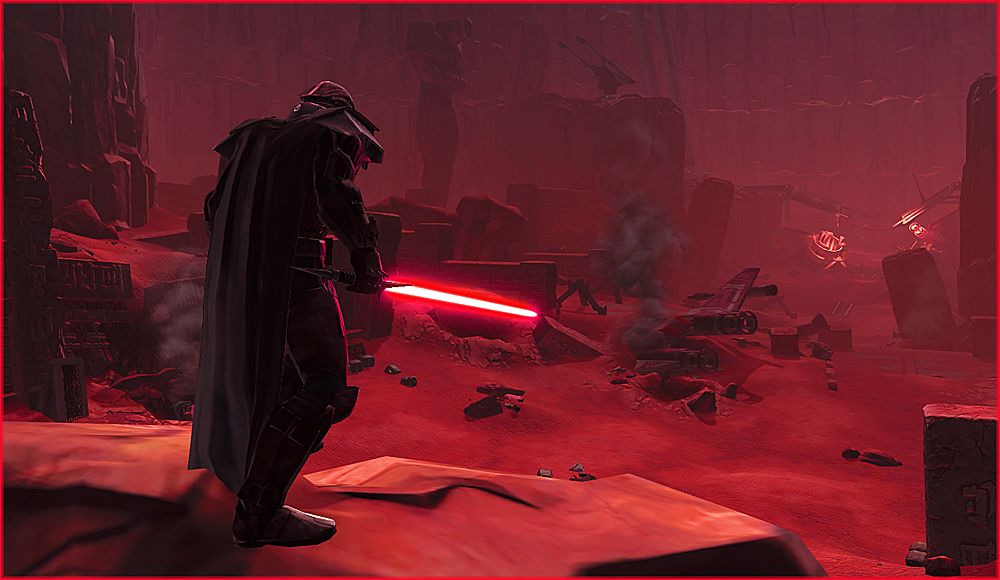 OOC Information
<Omar Syndicate>
is an 18+ heavy criminal/cult RP guild on the Ebon Hawk (US), Sith side. We are a
lore-focused
guild and believe in adhering to the game's canon. We provide a platform which embraces Sith, Imperial soldiers, hired guns, cultists, criminals, and "normal" people.
Our guild RP takes place directly at the end of the events of Game Update 4.0:
Knights of the Fallen Empire
. Our RP stays up to date with the official advancement of TOR's timeline as new content is released. Since KOTFE takes place 5 years after Shadow of Revan, we have already advanced our internal guild timeline to compensate.
We define
heavy RP
as a setting where RP takes place on a daily basis, though not all members are required to RP that often.
Our goal is to provide an OOCly friendly and helpful environment for people to create their own stories based around an Imperial fleet and the forces who occupy it. We have a
guild ship
as well as several well-decorated strongholds dedicated to guild RP, including a fully unlocked and decorated Yavin compound. While we have private guild plotlines, we also RP with the server as a whole, since a large portion of our RP takes place on multiple planets.
We have a very strict
no drama
policy. We try to keep guild chat a stress-free place. We believe IC actions equal IC consequences and that the most important aspect of RP is upholding the line between IC and OOC.
Freeform RP
is our focus. Proactive RPers are a necessity. We regularly convene as a guild in certain locations for nightly RP, but you are also strongly encouraged to RP wherever and whenever you wish. Our guild is not heavily GM or event based--you are expected to create your own RP collaboratively with the rest of the guild.
There is
room for advancement
within our ranks and we try to give every character type something fun to do. Any advancement in rank within the guild is expected to occur naturally through RP.
When we say we are lore focused, we mean exactly that. You don't have to know every detail of canon to be a good fit in this guild! However, you should make sure that your character is not violating anything major. All of our members are very willing to help with character concepts and lore.
Know that Omar politics matter more to leadership than any other organization, be it Sith or Republic. The leadership will act on members who operate in counter to the organizations interest even if said characters are adhering to an organization outside of the guild. What this means is that Sith subjugating non-Sith will only be tolerated if it does not conflict with what the Omar want.
The
Omar Syndicate
is a guild storyline continuation of Wrath of Korriban, The Ebon Wraiths, Iniquitous Agenda and Collective, our previous guilds. Our storyline is constantly advancing and evolving, hence the changes in name!
Eligible Characters
Truthfully, there are very few characters who could not work for us in some capacity. We need inquisitors, combatants, researchers, stealthy assassins, doctors, mad scientists, Imperial soldiers, ship officers, bounty hunters, mercenaries, slaves… you get the picture!
Gameplay (PvE & PvP)
While our focus will always be on RP, we also play the game. This means we welcome members who are interested in playing the game as well as just RPing (but if you want to do nothing but RP, you are more than welcome!).
Members are encouraged to work on leveling up, gearing, and endgame content such as PVP, flashpoints, and crafting. We are not currently running guild raids, but we would be open to it in the future. When we aren't RPing, we routinely put together flashpoint and PVP groups, and also do dailies very often.
Join Us!
If you are interested in joining
Wrath of Korriban
, please visit our guild site. You will need to join our site and then click the "
Application
" button.
Wrath of Korriban | Guild Site
Officer Contacts
Beltane
- (Syrine / Olyvia / Beltane)
Vexos
(Vedris / Vexos)
Lelith
- (Lelith)
Eilu
- (Eisheth / Naha'miin)